Bill Mack
Click on any image to go to the Retail Price List for this Artist
Admiration, (Bonded Natural Sand)
Glamour, (Mixed Metals)
Encircled Enigma, (Bonded Stainless)
Innocence, (Acrylic)
Freedom - Horse, (Mixed Metals)
Forever Remembered, (Mixed Metals)
Biography: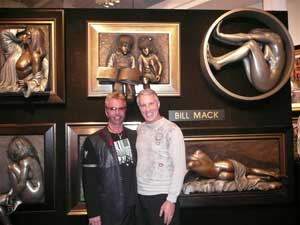 Bill Mack (September 25, 1947 - )
Bill Mack is the world's pre-eminent relief sculptor. The relief format – In Mack's case, "alto relief" – originated in ancient temple friezes and marble sepulchers.
To excel in this exacting form, in which foreshortening poses daunting technical challenges, Mack is a master craftsman. Each relief derives from painstaking studies of the foreshortened figure – a classic skill that is rare in today's contemporary scene.
Mack's figures – with their emotional beauty and soulful dignity-partake of the style "Romantic Realism," of which the pre-Raphaelite painters are a leading historical antecedent.
His drawings and paintings, in the photo realistic genre, are extremely rare and are immediately recognizable as Mack's. They are rendered with a dimensional or "round" quality, since, while he is working in two-dimensions, he is always thinking of the images in three-dimensions.
Youthful and enthusiastic, stylish and unusual, from his rare art form to the mysterious red rose that he wears on his lapel each day, Mack enjoys one of the most successful, high profile careers in contemporary American art.
Selected Private Collections
Former U.S Presidents Clinton, Reagan, Ford, Carter

Elton John

Mikhail and Raisa Gorbachev

HRH Prince Albert of Monaco

Elizabeth Taylor

Robert Redford

Muhammad Ali

Kareem Abdul-Jabbar

Sylvester Stallone

Tony Curtis

Celine Dion

David Copperfield

Garth Brooks

Trisha Yearwood

Peggy Flemming

50 Cent

Billy Graham

Billie Jean King

Kenny Rogers

Lee Iacocca

Wayne Newton

Rod Stewart
Selected Public Collections
NBA Hall of Fame, Springfield, Massachusetts
Relief Sculpture of Kareem Abdul-Jabbar, presented at his retirement, televised nationally (NBC), now permanently installed in the Basketball Hall of Fame
MLB Hall of Fame Permanent Collection, Cooperstown, New York
Maquette-sized Bronze Sculptures of Harmon Killebrew, Rod Carew, and Kirby Puckett
NFL Hall of Fame, Canton, OH
Relief sculpture of Lyle Alzado, commissioned by Athletes and Entertainers for Kids
American Tennis Hall of Fame/Arthur Ashe Foundation, Newport, Rhode Island
Two sculptures of Arthur Ashe, presented by the Mayor of Frankfort Germany and nine top seeded tennis players
American and Canadian Hockey Halls of Fame
Hobey Baker sculpture, presented annually to the top collegiate hockey player in America
United States Figure Skating Hall of Fame and Museum, Colorado Springs, Colorado
Relief sculpture presented to Peggy Fleming during the 1998 World Figure Skating Championships in Minneapolis, Minnesota to commemorate the thirtieth anniversary of her Olympic Gold Medal, World and National Championships.
Cowboy Hall of Fame, Oklahoma City, Oklahoma
Relief Portrait of Rodeo Legend, Casey Tibbs placed on permanent collection
The Great Hall of the People Museum, Tiananmen Square, China
Relief presented to Jaing Zemin, Premier of China
AMFAR/Ryan White Foundation, Indianapolis, Indiana
"Hope", a relief portrait of Ryan White, unveiled by his mother, Jeannie White, and Elizabeth Taylor
Statue of Liberty Museum, Liberty Island, New York City
Sculpture "Lady" of the Statue of Liberty on permanent installation
Selena Relief Portrait, Corpus Christi, Texas
Commissioned Portrait of the most famous and beloved of the female Latin singers who was tragically shot down at the height of her career. The cast bronze sculpture is on permanent display at her gravesite.
Harley-Davidson Cast Bronze Monument, Dedicated in Aspen, Colorado
2,000lbs. life-size sculpture of a Harley-Davidson motorcycle and rider entitled Freedom dedicated to the spirit of motorcycling.
Minnesota Twins Organization, Minneapolis, Minnesota
125% life size Bronze Sculptures of Hall of Famers: Harmon Killebrew, Rod Carew, Kirby Puckett, Tony Oliva, and Kent Hrbek. Twins also commissioned life sized bronze sculptures of 1955-1984 Twins Owner Calvin Griffith, and 1984-2009 Twins owner Carl Pohlad (with wife Eloise)
Vatican, Vatican City
Relief Sculpture The Madonna with Butterfly
Pretty Woman, Beverly Hills Brats, Perry Mason, and other motion pictures, and television shows.