"Hand Off - Superbowl III"
by
LeRoy Neiman
---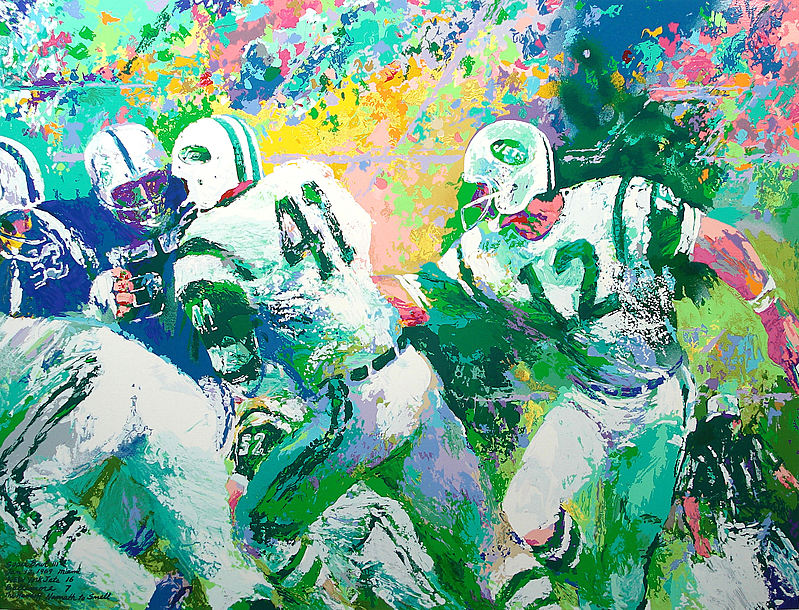 Copyright © 2007 LeRoy Neiman, All Rights Reserved.
350 Numbered
69 Artists Proofs
8 Printers Proofs
This piece recreates the most storied Super Bowl in the history of this great game - the intensity and suspense of the 1969 Super Bowl, one of the biggest upsets in American sports history. The underdog New York Jets trounced the champion Baltimore Colts with a winning score of 16-7.

Neiman places us directly on the field of the Orange Bowl in Miami, Florida at the most important moment of the game, when Jets star quarterback, Joe Namath, hands off to fullback Matt Snell on his way to the winning touchdown. Namath, who had famously "guaranteed" the underdog Jets triumph over a Baltimore team that had lost only once in 16 games that season, performed superbly and led his team to an unlikely victory. Joe Namath was voted Most Valuable Player of Super Bowl III.

Signed by both LeRoy Neiman and Joe Namath.
Fine Art At The Best Possible Prices