Biography
---
LeRoy Neiman (June 8, 1921 - June 20, 2012)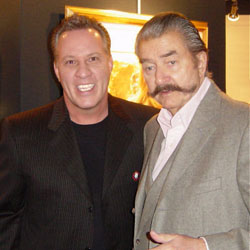 Loved by millions for the vibrant colors and detailed depictions of many different aspects of life in the United States, LeRoy Neiman's art is among the most widely recognized in the world. His work is sought after by collectors everywhere who are anxious to show off a piece of history. Many of the pieces that aren't already in private collections hang in museums and galleries around the globe. Dewey Graff Fine Art is proud to offer a selection of LeRoy Neiman's art for your own home or office. Call or visit us today to learn more about the availability of your favorite piece.
Neiman was born and raised in St. Paul, MN, before joining the military. After an honorable discharge, he began attending the School of the Art Institute of Chicago, eventually becoming an instructor. After winning a series of regional contests and building his reputation, Neiman joined Hugh Hefner at Playboy, writing and illustrating the "Man at His Leisure" columns. After living for a time in Paris, Neiman moved back to New York City, painting countless cultural figures, including many of the major names in art, politics, and sports.
Through his work, LeRoy Neiman managed to bring art to millions of people in the US and around the world. His work received many awards throughout his life, and original pieces hang in the collections of many museums, including the Baltimore Museum of Fine Art, the Museo de Bellas Artes in Caracas, and the Art Institute of Chicago.
At Dewey Graff Fine Art, we want to make the world of art accessible to everybody. We offer many prints for sale, including LeRoy Neiman's art, at the best possible prices. We offer a wide selection of limited and open edition works, posters, sculptures, and more. For more information or to inquire about availability, give Dewey Graff Fine Art a call today at (952) 935-2289.