Biography
---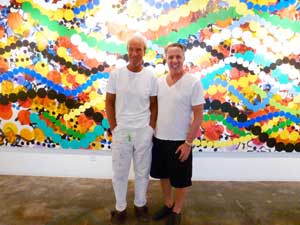 Thanks to the art of Tom Everhart, you can relive the childhood magic of opening up the Sunday paper to the funny pages. As the only artist in the world who is licensed to use Charlie Brown, Snoopy, and the entire cast of Peanuts characters, his work is beloved by millions. Now, thanks to Dewey Graff Fine Art, you can have a piece of Americana to display in your home or office for the world to enjoy. We are a proud supporter of Tom Everhart's art and offer a large selection of limited edition and original prints that you can order today. Call Dewey Graff Fine Art today to learn more about any of the pieces we offer.
Having developed a close friendship with Charles Schulz, Everhart became a key partner in the success of the comic strip. The two would work together for many years on the most iconic characters to ever grace the panels of a comic strip. Eventually, Everhart's work on the comic strip began to blend into his personal work, becoming a key theme throughout the artist's career. Tom Everhart's art is characterized by bright colors and bold decisions that help bring these timeless characters to life.
Today, Everhart's work is highly sought after by collectors around the world. His works have been displayed in galleries and museums around the world, including the Louvre, thanks in part to his ability to showcase the characters in new and evocative ways. Dewey Graff Fine Art is proud to partner with Everhart to offer a collection of original and limited edition prints that are the perfect adornment for your home or office. We believe in offering fine art at the best possible prices for all our customers. To learn more about any of the pieces we carry from Tom Everhart or any of our other incredible artists, give Dewey Graff Fine Art a call today!